Ultra Hydrating Luxe Lotion + 100mg CBD
This rejuvenating and hydrating body moisturizer provides a protective layer over your skin to protect against the environment.
Rich in natural nourishing ingredients like CBD Oil, Organic Green Tea Extract, Avocado Oil, Coconut Oil, Marula, Lavender and Peppermint Oil, this expertly crafted cream helps provide deep and lasting hydration. We call it the "Mother of all Creams".
100mg Pure CBD Isolate
Avocado Oil
Coconut Oil
Thick Cream

 Free shipping on all US orders and a risk-free satisfaction guarantee
Apply to dry, cracked skin and gently masage in a circular motion
Use 1-2 times daily to replenish and maintain your skin's natural moisture barrier


Morning
Apply to fresh, clean skin after showering

Afternoon
To rehydrate and keep skin moisturized

Evening
To provide your skin nourishment before resting
Expertly crafted with a blend of effective and nourishing ingredients that work to provide deep and lasting hydration.  Use daily to calm irritated skin, protect from oxidative damage and help soothe both body and mind.
Our Luxe lotion is often referred to as the Queen of all Creams. Rich in Avocado oil, Shea butter, and Coconut oil, this formulation will leave you feeling silky smooth.  It also contains Hyaluronic acid and Green Tea extract to tighten and firm the skin.
What's inside the container?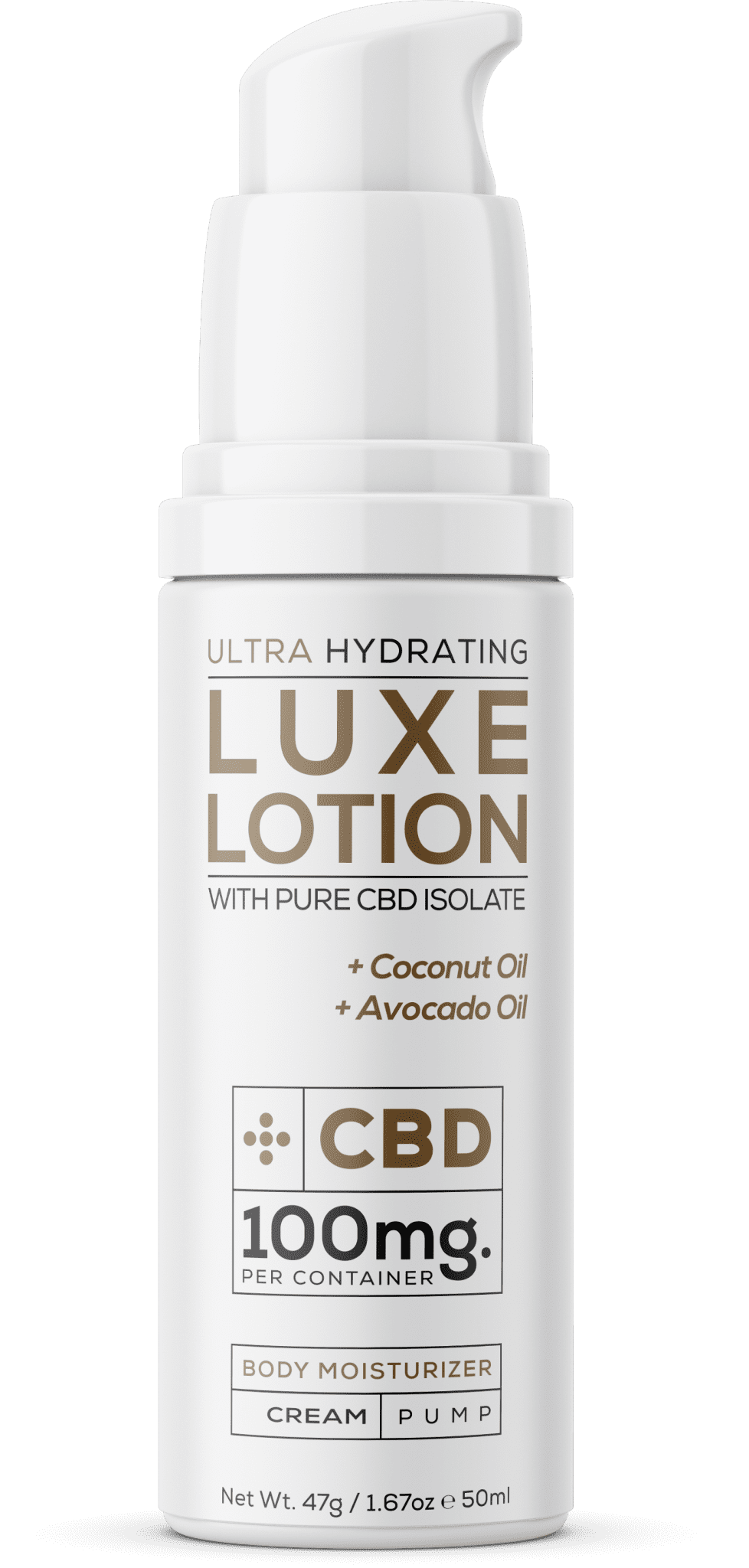 99% Pure Cannabidiol (CBD) Isolate
Cannabidiol Isolate is by definition 99.1%+ pure CBD. CBD Isolate is widely used by athletes, business professionals, and performers as it contains no THC and won't register on a drug test. It is the purest form of CBD available, containing no other cannabinoids besides CBD.  
Avocado Oil
The antioxidants and anti-inflammatory agents in avocado oil help skin stay smooth, strong, and elastic.
Marula Oil
This rich facial oil moisturizes, nurtures, and balances while restoring a youthful glow.
Coconut Oil
Rich in medium-chain fatty acids, coconut oil possesses antimicrobial properties that can help with acne and protect the skin from harmful bacteria.
Lavender Oil
Lavender oil is known for its ability to help prevent and heal breakouts.  It has been used for centuries to unclog pores, to keep skin looking healthier and more radiant.
Peppermint Oil
A natural cleanser, peppermint oil has antiseptic and antibacterial qualities. When applied to skin, Peppermint oil has a cooling effect which soothes irritated, inflamed skin.
Shea Butter
Don't just take our word for it…
Frequently asked questions
Ultra Hydrating Luxue Lotion
How frequently should I apply the lotion?
Apply as needed to dry, cracked skin to achieve greater hydration and moisture retention.
Is this okay as a facial lotion?
Absolutely! Our Luxe Lotion was designed for full body-use and makes for a fabulous facial moisturizer.
Will the Luxe Lotion help relieve discomfort?
Our Luxe Lotion was designed to moisturize, hydrate, and soothe tired, irritated skin. 

Save up to 20% on your order when you switch to a subscription!

Free 2-3 day priority shipping on all US orders

We offer a 60-day money-back guarnatee on your entire order
Take 15% off your first order
Get exclusive offers and more