Collagen & Retinol + 100mg CBD
Reveal tighter and brighter skin! This CBD infused anti-aging cream is formulated to help boost your skin's radiance & skin tone.
Containing TriPeptides and TetraPeptides to encourage collagen production and Retinol for increased cellular turnover. Add this cream to your daily skin care routine to promote smoother and revitalized skin!
100mg Pure CBD Isolate
Active Peptides
Retinol

 Free shipping on all US orders and a risk-free satisfaction guarantee
Apply to facial area twice daily especially around, eyes, crow's feet and forehead area. Gently massage in a circular, upward motion.


Morning
To boost radiance and youthfulness

Evening
To prime face for repair while you are resting
As we age our bodies produce less collagen, which leads to wrinkles and sagging skin.  The primary role of collagen is to work as a binding agent, keeping the skin firm and elastic.
Supercharge your collagen production
To supercharge the body's ability to produce collagen, retinol is an absolute must. Retinol boosts your bodies ability to make collagen, making skin look more plump, and cutting down on fine lines and wrinkles.
What's inside the container?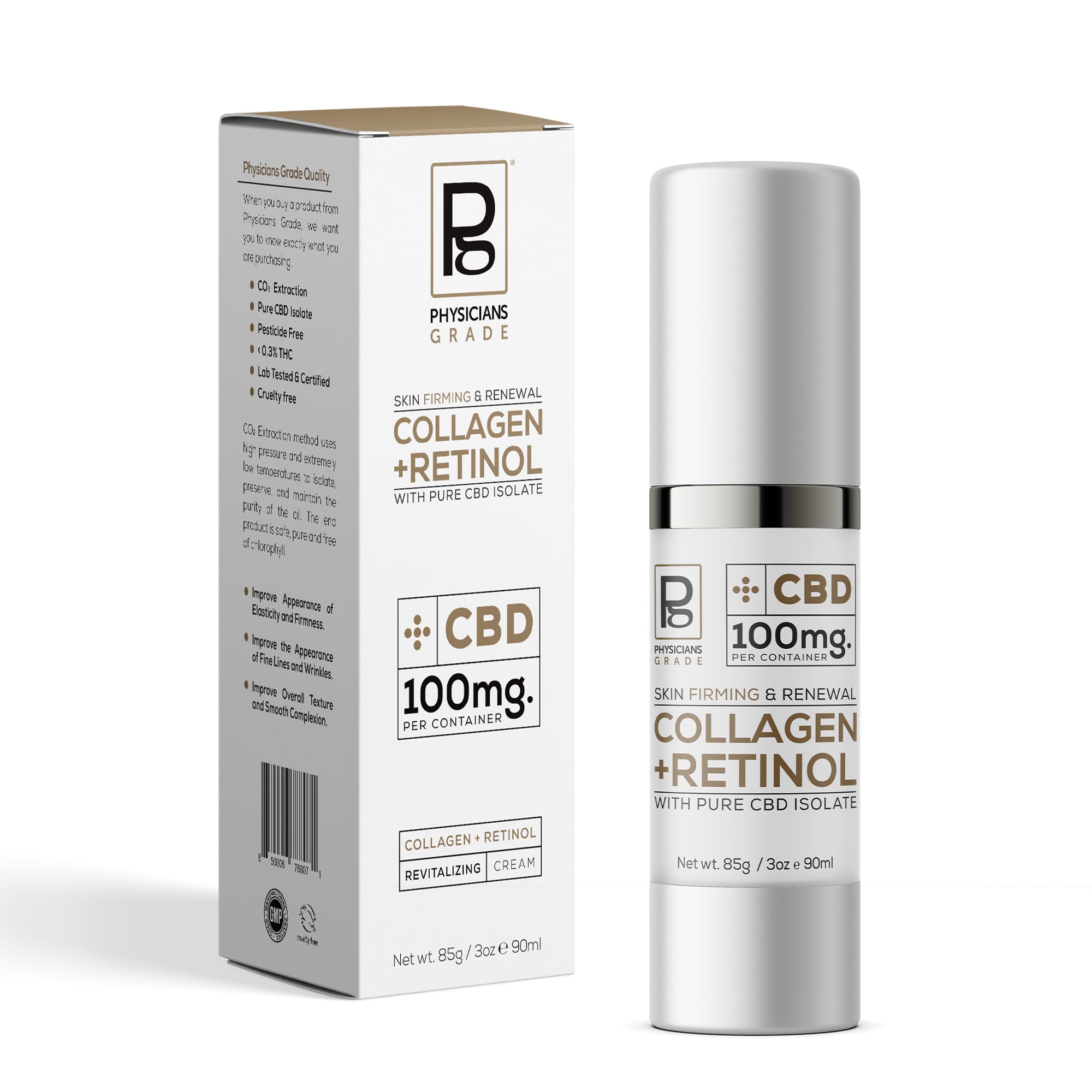 99% Pure Cannabidiol (CBD) Isolate
Cannabidiol Isolate is by definition 99.1%+ pure CBD. CBD Isolate is widely used by athletes, business professionals, and performers as it contains no THC and won't register on a drug test. It is the purest form of CBD available, containing no other cannabinoids besides CBD.  
Collagen
Collagen plays an important role in strengthening your skin, keeping it healthy, elastic, and supple. 
Retinol
Also referred to as Vitamin A, retinoids are the most studied anti-aging compound in the world.  Retinol is used to help reduce fine lines and wrinkles by increasing the production of collagen.
Don't just take our word for it…
Frequently asked questions
Skin Firming & Renewal Collagen + Retinol Cream
How long before I see results?
Studies done on key ingredients in our formulation show improved skin elasticity and visible reduction of fine lines after 4-8 weeks of daily use.
When is the best time to apply Collagen & Retinol?
Collagen production occurs while we sleep.  For maximum results, apply at night prior to going to bed.
How much should I apply per use?
Apply a small pea-sized amount on fingertips and apply under and around the eye area, gently stroking upwards

Save up to 20% on your order when you switch to a subscription!

Free 2-3 day priority shipping on all US orders

We offer a 60-day money-back guarnatee on your entire order
Take 15% off your first order
Get exclusive offers and more