Neck & Décolleté Cream + 100mg CBD
Our CBD Neck & Décolleté anti-aging cream helps to tone, firm & tighten the neck area by forming a protective barrier while improving its overall elasticity and collagen.
This cream helps to stimulate the natural production of Hyaluronic Acid which naturally hydrates the skin & helps minimize pre-existing lines & wrinkles. Natural hemp extracts help to repair damage, leaving your face nourished with a radiant, youthful glow.*
100mg Pure CBD Isolate
Hyaluronic Acid (HA)
Tones & Tightens

 Free shipping on all US orders and a risk-free satisfaction guarantee
Apply to neck & décolleté area twice daily, gently massaging in a circular upward motion


Morning
Apply to clean skin on neck and jawline

Evening
Apply in the evening prior to bed to maximize the bodies potential for new collagen production
A hydrated neck, is a fresh neck
The neckline is one of the first areas of the body to show signs of aging. Formulated with luxurious avocado and jojoba oils, our neck and decollete restorative cream will deeply hydrate tired skin, making it look fuller and more vibrant.  
Powerful wrinkle reduction
To reduce wrinkle depth, we added Argireline.  A study on Argireline found it reduced the depth of wrinkles by 17% in just 15 days and reached a maximum reduction of 32% at 28 days.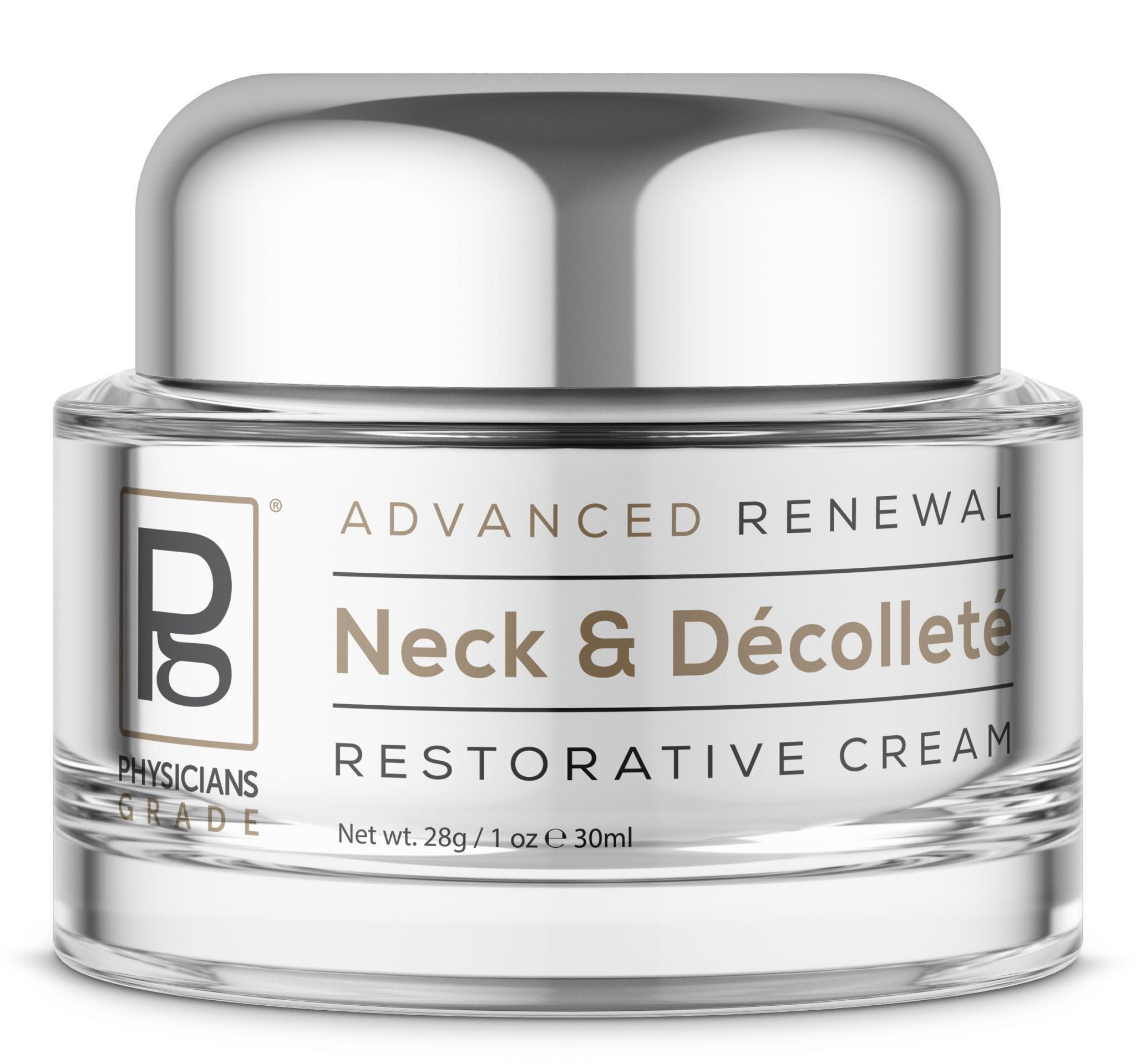 Argireline
An alternative to botox, Argireline works similarly by relaxing muscles giving the appearance of smoother, healthier, and younger looking skin.
99% Pure Cannabidiol (CBD) Isolate
Cannabidiol Isolate is by definition 99.1%+ pure CBD. CBD Isolate is widely used by athletes, business professionals, and performers as it contains no THC and won't register on a drug test. It is the purest form of CBD available, containing no other cannabinoids besides CBD. 
Retinyl Palmitate (Vitamin A)
Also referred to as Vitamin A, retinoids are the most studied anti-aging compound in the world.  Retinol is used to help reduce fine lines and wrinkles by increasing the production of collagen.
Pure Hemp Oil
Hemp seed oil is all-natural, non-GMO, and has a rich, nutty scent and flavor. It is often used in skincare, hair care products, lotions, balms, tinctures, soaps, and shampoos It is composed of Linoleic Acid, Alpha-Linoleic Acid, Oleic Acid, Palmitic Acid, Stearic Acid, and y-Linolenic Acid.
Don't just take our word for it…
Frequently asked questions
Advanced Renewal Neck & Decollete Cream
When should I apply Advanced Renewal Neck & Decollete Cream?
Apply to the neck and decollete area once daily, gently pulling the skin upward.
How long before I should begin to see results?
Studies done on key ingredients in our formulation show improved skin elasticity and visible reduction of fine lines after 4-8 weeks of daily use.
Does CBD help with the reduction of wrinkles?
CBD contains essential fatty acids that moisturize and hydrate the skin, making skin look healthier and more vibrant. 

Save up to 20% on your order when you switch to a subscription!

Free 2-3 day priority shipping on all US orders

We offer a 60-day money-back guarnatee on your entire order
Take 15% off your first order
Get exclusive offers and more