Apple Stem Cell Cream + 100mg CBD
Scientists have found that stem cells derived from a rare apple tree, have shown extraordinary longevity & regenerative properties.
Our anti-aging cream contains a blend of apple stem cells & natural hemp oil to promote both vitality & longevity in our skin's cells. With daily use, your skin will appear younger, tighter & brighter! For optimal results, apply to the face and neck twice daily.
100mg Pure CBD Isolate
Apple Stem Cells
Anti-Aging and Brightening

 Free shipping on all US orders and a risk-free satisfaction guarantee
Apply to the facial area twice daily, especially around the eyes, crow's feet, and forehead area, gently massaging in a circular, upward motion.


Morning
To boost radiance and youthfulness

Evening
To prime face for repair while you are resting
Discovered in Switzerland, the stem cells from this special type of apple have shown incredible anti-aging results in human trials. A study of 20 women ages 37-64, applied apple stem cells to their crow's feet for 28 days and showed 100% of significant and visible decrease in wrinkle depth.
The Final Key to the Puzzle: Hydration
For skin to look its absolute best, it needs to be thoroughly hydrated.  Hydrated skin looks soft, supple, youthful, and more elastic.  Achieve maximum hydration with our formulations of Avocado, Jojoba, and Hemp oils.  Don't forget to drink water regularly!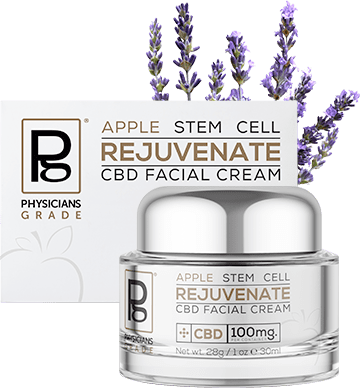 99% Pure Cannabidiol (CBD) Isolate
Cannabidiol Isolate is by definition 99.1%+ pure CBD. CBD Isolate is widely used by athletes, business professionals, and performers as it contains no THC and won't register on a drug test. It is the purest form of CBD available, containing no other cannabinoids besides CBD. 
PhytoCellTec
This stem cell extract has shown profound abilities to protect the skin against oxidative stress and delay cellular death, keeping skin looking youthful.
Retinyl Palmate (Vitamin A)
Also referred to as Vitamin A, retinoids are the most studied anti-aging compound in the world.  Retinol is used to help reduce fine lines and wrinkles by increasing the production of collagen.
Pure Hemp Oil
Hemp seed oil is all-natural, non-GMO, and has a rich, nutty scent and flavor. It is often used in skincare, hair care products, lotions, balms, tinctures, soaps, and shampoos It is composed of Linoleic Acid, Alpha-Linoleic Acid, Oleic Acid, Palmitic Acid, Stearic Acid, and y-Linolenic Acid.
Don't just take our word for it…
Frequently asked questions
Apple Stem Cell Rejuvenating CBD Facial Cream
How long before I see results?
Studies done on key ingredients in our formulation show improved skin elasticity and visible reduction of fine lines after 4-8 weeks of daily use.
What's the deal about apple stem cells?
Studies show apple stem cells increase skin stem cell vitality and longevity, and help repair damaged skin by activating your own skin stem cell regeneration.
How long does a jar of apple stem cell cream last?
Depending on how much you apply daily, the product should last approximately one month.

Save up to 20% on your order when you switch to a subscription!

Free 2-3 day priority shipping on all US orders

We offer a 60-day money-back guarnatee on your entire order
Take 15% off your first order
Get exclusive offers and more