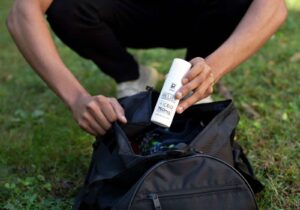 As we've spoken about, CBD is known to have a great deal of natural healing properties, but did you know that CBD can also help with muscle pain and soreness when used topically? Well, we're here to provide you with some more insight around how CBD can help with back pain. 
Over the course of the past few years, more and more studies have surfaced about the power of CBD, and if it offers up solutions to help mitigate back pain. The results have been very promising and show that CBD may reduce back pain by: 
Reducing inflammation

Helping improve how the muscles relax. 
With this, using topical CBD like our Roll-On helps provide relief to a targeted area once you apply to your back, while ingestible CBD (when used consistently, and with the right dose) is used to help your overall bodies health. 
While topical CBD cannot help get rid of pain in your back, what it can do is help to numb pain when used regularly! 
There are many different kinds of topical CBD that can be used for muscle pain in your back. We recommend trying either a cream or a roll-on gel, based on your preference of application. CBD cream used for back pain can be applied to your body like a lotion, while the roll-on option is more like a gel, which some people find easier to put on after a workout! 
And for more information about topical CBD head here