Advanced Relief Cooling Cream + 750mg CBD
This topical healing cream/rub works by deeply penetrating your skin to provide cooling and soothing relief.
Our Hemp Intensive blend with 750mg of Pure CBD extract is one of the highest available on the market today in a cream.
750mg Pure CBD Isolate
10% Emu Oil
Arnica
Fast Absorbing and Moisturizing Cream Formula
$50.00 — or subscribe and save up to 20%

 Free shipping on all US orders and a risk-free satisfaction guarantee
Apply to desired area frequently to provide lasting relief
Use pre/post workout to help combat inflammation and soothe tired muscles and joints
Drink lots of water and rest


Morning
To help temporarily relieve minor aches and pains* to get the body moving

Afternoon
To help relieve body aches during the day and while on the go

Pre / Post Workout
To help overall body recovery and reduce stiffness and soreness

Evening
To help get a more comfortable night's sleep.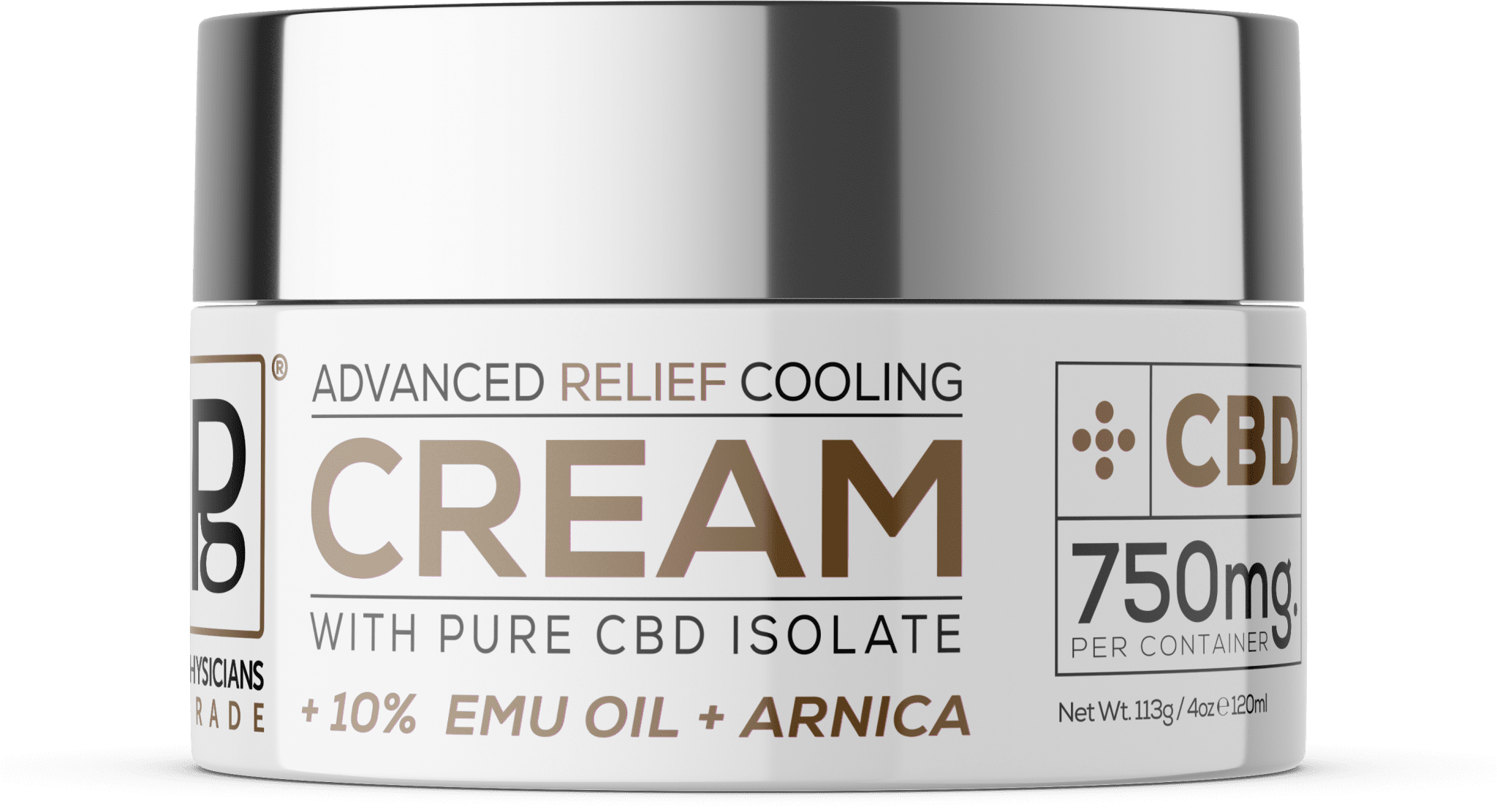 Our advanced cooling cream is made from a unique blend of ingredients known for their healing properties.  Supercharged with 750mg of CBD, this formula does exactly what it says, providing advanced cooling relief.
Supports Exercise and Recovery
Exercise induced inflammation can prevent you from living your most active life.  Knock down workout related aches and inflammation by providing your muscles and joints a little love with our advanced cooling cream.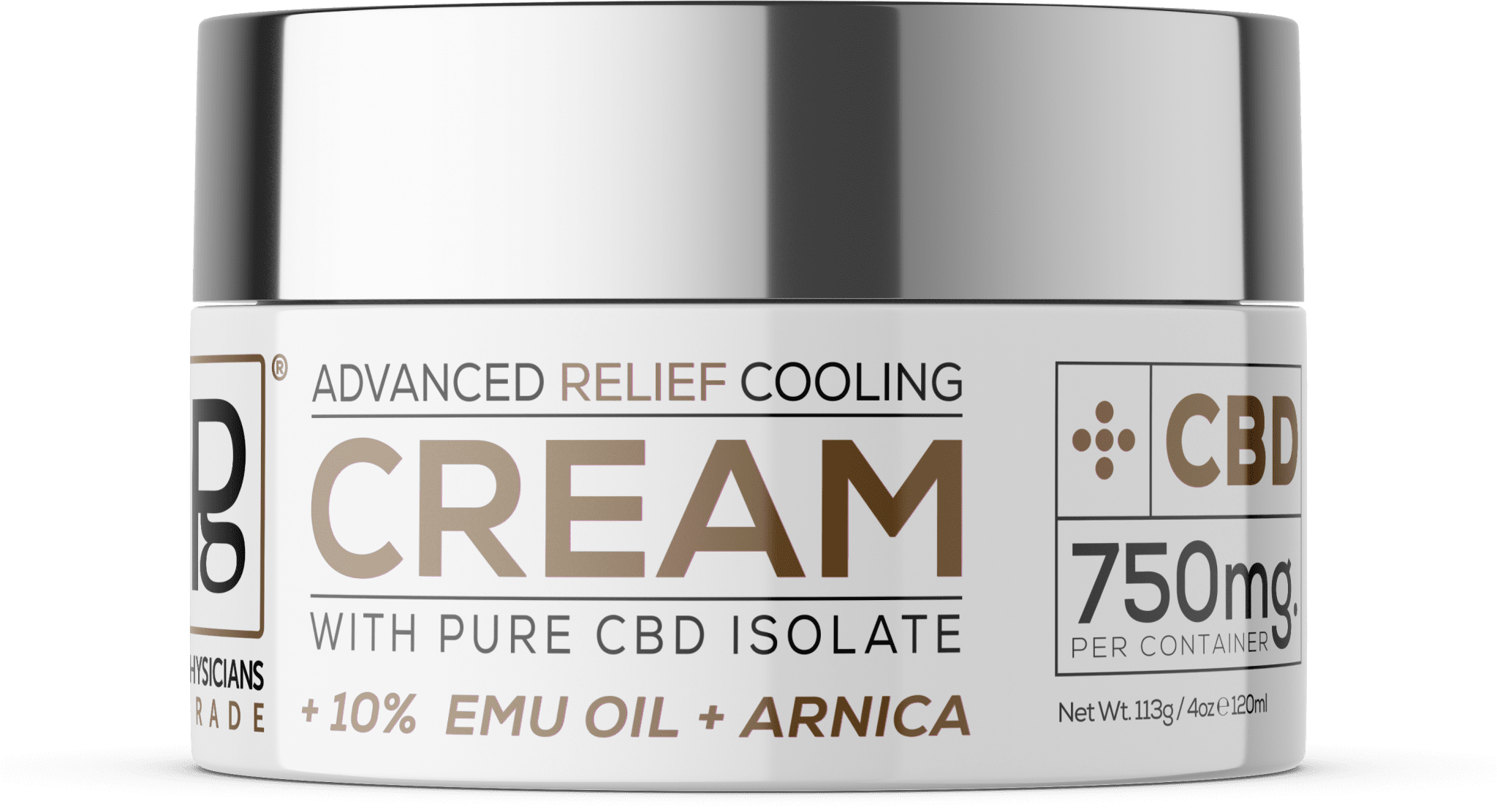 99% Pure Cannabidiol (CBD) Isolate
Cannabidiol Isolate is by definition 99.1%+ pure CBD. CBD Isolate is widely used by athletes, business professionals, and performers as it contains no THC and won't register on a drug test. It is the purest form of CBD available, containing no other cannabinoids besides CBD.
Emu Oil
Used for centuries, emu oil is world renowned for its ability to help fight minor aches and pains, help wounds heal quicker, and protect the skin from nature's elements.
Arnica
Arnica is a flower commonly used in Homeopathic formulations targeted towards pain relief and decreased bruising. 
Don't just take our word for it…
Frequently asked questions
Advanced Relief Cooling Cream
How much do I need to apply?
Start with a small pea-sized amount, a little goes a long way with this cream.
How long should this last for?
While everyone is different, most commonly it lasts from several hours to a half-day or longer per application.
What makes this cream "cooling"?
The cooling effect is a combination of menthol and emu oil working together to provide a soothing sensation.

Save up to 20% on your order when you switch to a subscription!

Free 2-3 day priority shipping on all US orders

We offer a 60-day money-back guarnatee on your entire order
Take 15% off your first order
Get exclusive offers and more